Bonus pair for your lifestyle needs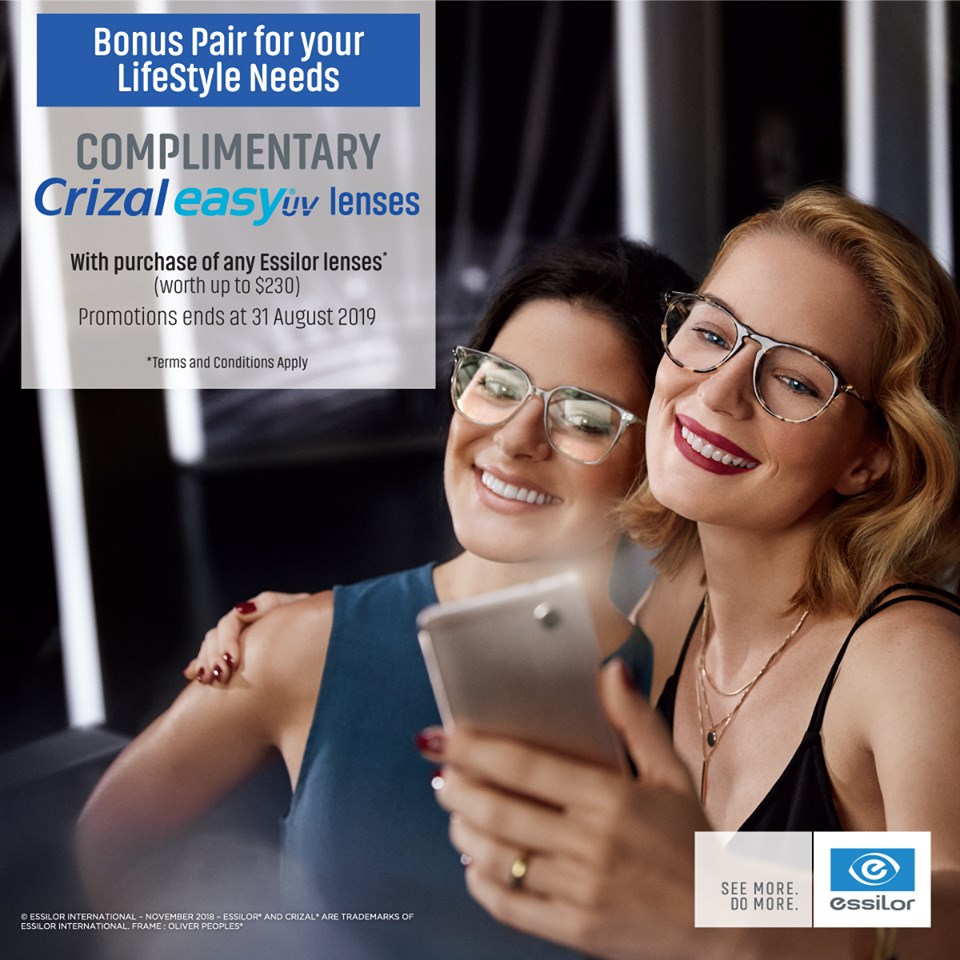 BONUS PAIR FOR YOUR LIFESTYLE NEEDS
One is never enough! Essilor's newest promotion is offering a wide variety of high quality lens solutions to suit all your lifestyle needs, plus a bonus pair of Crizal® Easy® UV lenses to expand your spectacle collection.

Our prescription lenses not only correct your eyesight, to lenses that protect your eyes from harmful UV and blue UV, we have all the vision solutions you are looking for.

Find out more about the Essilor portfolio here:

– Crizal®
– Essicolor®
– Transitions™
– Varilux®
– Xperio®
Complimentary Lenses: Crizal® Easy® UV
Essilor has wide variety of high quality solutions to suit all your vision needs. Get complimentary Crizal® Easy® UV with purchase of any Essilor lenses (worth up to $230)
Choosing the right lenses is critical to your visual health, and your eyeglasses are not complete without Anti-Reflection lenses. Anti-Reflection lenses are recommended for all ages and provide all the benefits below
Drop by any our our stores to find out more!
Terms & Conditions:
Promotion ends 31 August 2019.
Promotion only valid with purchase of first pair of Essilor RX lenses.
Essilor's range of lenses includes Crizal®, Essicolor®, Transitions™, Varilux® and Xperio®.
Complimentary pair of Crizal® Easy® UV will come in matching lens index as the first pair.
Complimentary pair is non-transferrable. Both pairs of lenses must be made on the same day by the same wearer.
Frame for complimentary pair has to be purchased from same optical store.
Free lenses are not exchangeable in part or in full for cash.
Upgrade to any Essilor products is available. Check with Eye Care Professional for top-up details.
Essilor reserves the right to amend the Terms & Conditions at its discretion.