Acuvue Oasys 1 Day for Astigmatism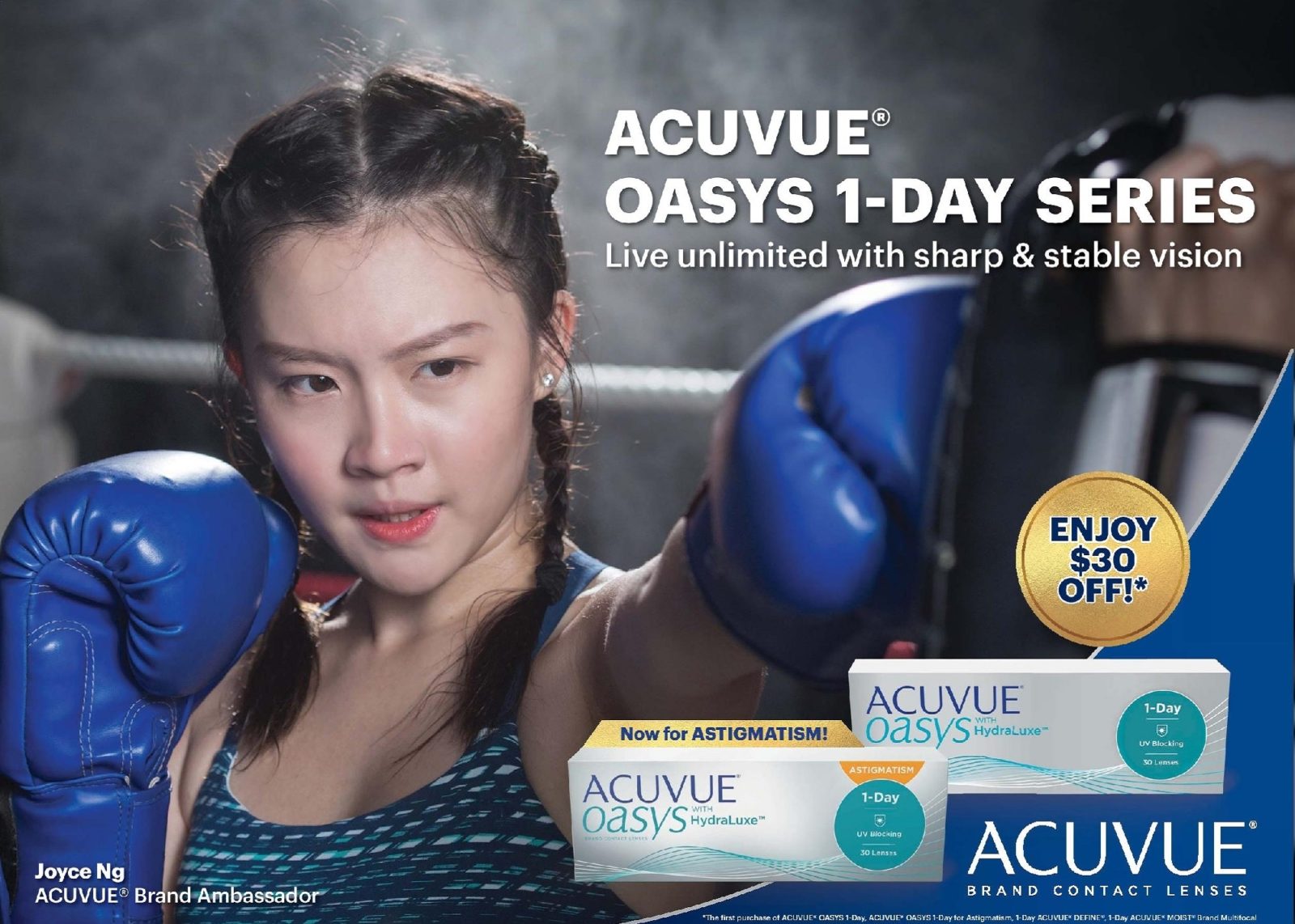 ACUVUE® OASYS 1-DAY FOR ASTIGMATISM
WITH HYDRALUXE™ TECHNOLOGY
Live unlimited with sharp and stable vision
DO YOU EXPERIENCE THE FOLLOWING SYMPTOMS?
These may be due to uncorrected astigmatism, affecting the performance of your day-to-day activities.
1. Eyestrain from Digital Screens
Uncorrected astigmatism increases eye strain and Computer Vision Syndrome1
2. Headaches & Reduced Performance
Uncorrected astigmatism is found 8x more often in people with headaches2 and causes eyestrain3
3. Poorer Visual Acuity
Uncorrected astigmatism causes reduction in visual performance4 and drop in reading speed5
4. Glare with Night Commuting
Trouble with driving at night is a common symptom6 of uncorrected astigmatism. Vision may be affected by halos and glares around lights, especially on wet surfaces
You need a pair of contact lenses that enables you to have exceptional performance throughout the day for:
Long study/work hours
Multiple digital screen usage
Sports
Commuting especially at night
Demanding days can leave your eyes feeling tired, don't they? Get the lens designed to provide all-day performance and excellent comfort throughout the demands of the day.
ACUVUE® OASYS 1-DAY for ASTIGMATISM has Hydraluxe™ Technology, a tear-infused design with enhanced moisture network and tear-like properties that integrates with our eyes' natural tear film to help reduce symptoms of tired eyes and dryness.
Ask your Eye Care Professional for ACUVUE®
PRODUCT DESCRIPTION
BENEFITS

Sharp and stable vision resistant to gravity or head movements with Eyelid Stabilized Design
Exceptional comfort and helps minimize tired eyes with Hydraluxe™ technology
Optimized eye health with Class 1 UV protection – 96% UVA, >99% UVB Blocking

VISION CORRECTION

Astigmatism, often accompanied by near-sightedness or far-sightedness.

Nearsightedness (Myopia): Distant objects appear blurry.
Farsightedness (Hyperopia): Objects appear blurry up close. Blur can also occur when viewing distant objects.

REPLACEMENT SCHEDULE

Daily wear, daily replacement
Fresh pair every day for healthier eyes, greater comfort and convenience.

HIGHEST LEVEL UV BLOCKING*

>99% of UV-B and approximately 97% UV-A
Internationally recognized High UV protection standards.

BREATHABILITY

Silicone Hydrogel material (senofilcon A)
Delivers 98% of available oxygen to the open eye.

WETTABILITY

HYDRALUXE™ Technology with an enhanced moisture network has tear-like properties that integrates with the natural tear film of the eyes, to provide all-day performance, excellent comfort, and reduced feeling of tiredness, to meet your active demanding life.

SMOOTHNESS

HYDRALUXE™ Technology makes contact lenses ultra-smooth so every blink feels almost like you're not wearing contacts at all.

EASY HANDLING WITH VISIBILITY TINT/INSIDE- OUT INDICATOR

Contact lenses are lightly tinted blue so you can spot them in your lens case and inserting lenses correctly every time is as easy as following the scribes at 6 and 12 o'clock mark.

PACKAGE SIZE

30 lenses/box

LENS DIAMETER

14.3 mm

BASE CURVES

8.5 mm

POWERS

Myopia: 0 to -6.00D (in 0.25 steps)
Astigmatism: -0.75D,-1.25D,-1.75D
Axis: Around the clock 10° – 180° (10° steps)
Astigmatism: -2.25D
Axis: 10°, 20°, 70°, 80°, 90°, 100°, 110°,160°, 170°, 180°

Myopia: -6.50D to -9.00D (in 0.50 steps)
Astigmatism: -0.75D, -1.25D, -1.75D
Axis: 10°, 20°, 70°, 80°, 90°, 100°, 110°,160°, 170°, 180°

Hyperopia: +0.25D to +4.00D (in 0.25 steps)
Astigmatism: -0.75D, -1.25D, -1.75D
Axis: 10°, 20°, 70°, 80°, 90°, 100°, 110°,160°, 170°, 180°
Source: https://www.acuvue.com.sg/products/acuvue-oasys-astigmatism-hydraluxe